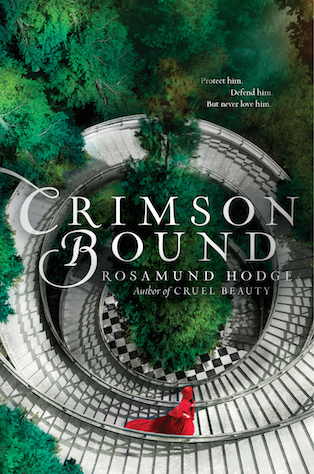 Crimson Bound
by Rosamund Hodge
★★★ ½
I really, really wanted to love this book. I'm actually kind of angry at myself for not liking it as much as I wanted to. There were so many incredible elements of this novel – from the powerful writing, to the sheer emotion and the tingling eeriness that I've come to expect from Hodge – but in the end, while I definitely enjoyed it, I didn't feel as utterly captivated as I did while reading Cruel Beauty.
I think most of this lack of engrossment came from my inability to connect with the main characters. For me, if I have difficulty connecting with the main characters right off the bat, I'm unable to really get into and appreciate the rest of the novel. Which is one of the reasons why I'm so upset – honestly, I think if I loved Rachelle and Armand as much as I did Nyx and Ignifex, this book would've been an out-of-this-world favourite for me. But it's not as if Hodge didn't give me enough opportunities to connect with Rachelle –
"Every day for the last three years, she had thought she deserved to die. She still didn't want to. She wanted to live with every filthy desperate scrap of her heart."
 She's utterly complex, both viciously dark and haunted by her past yet still unbroken and fighting to save the people she loves. However, in the end, I just couldn't get past the bitter self-hatred and self-pity that she puts herself through. I understood it and my heart went out to her for the horrific things she experienced but I just couldn't read it over so many times.
Armand was also a character I had difficulty liking. There was nothing wrong with him necessarily – other than being a bit predictable, but I couldn't find anything spectacular about him either.
The writing on the other hand, was absolutely dazzling. The descriptions of the Château de Lune made me swoon with giddy delight while the Great Forest made me sit up straighter and hold my book tighter with anticipation every time it came into play. The back story with Zisa and Tyr was enthralling, both bone chilling and heartbreaking, a combination that Hodge employs perfectly. Usually I'm not a huge fan of a story within a story but I couldn't get enough of this one!
"Zisa would have gladly lost hands and feet and eyes and tongue for her brother. But she knew that if she waited for him to pick up the sword, he would refuse and die beside her, and his death was the one thing she could not endure. So she picked up the sword and cut off his right hand."
All in all, I enjoyed reading Crimson Bound and loved the darkness it lent to the beloved Little Red Riding Hood fairy tale but I just wanted something more out of the characters!