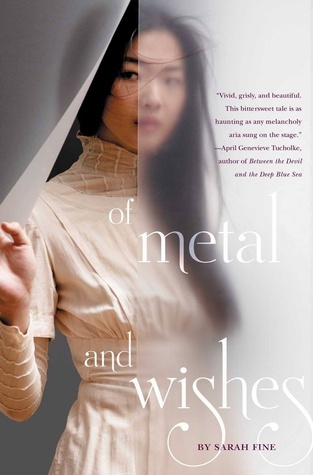 Of Metal and Wishes 
by Sarah Fine
★★★★☆
Of Metal and Wishes is a profoundly poignant, bittersweet retelling of The Phantom of the Opera that I suspect will stay on my mind for many, many nights to come (or until the sequel, Of Dreams and Rust releases for which I am counting down the days!).
I found that the main character Wen, was not terribly remarkable. She's likeable for sure and I found her brave and defiant but in contrast, her relationships with the people around her, namely Melik, Bo and her father, are absolutely dazzling.
I'm a sucker for forbidden romances – especially those between different classes, and Fine executed this one gorgeously. It was more than just cute, it was raw and vulnerable and reading it, I felt stripped down to my bones with sorrow and despair and quiet, poignant moments of joy. The kind of love that can transcend years and years of cultural prejudice, that stands upright against everything society  dictates – that's the kind of romance in this novel and I loved everything about it.
I am so tired right now, and the chill has crept into my bones and made them ache. But I will not fall asleep; no, I will sit here with this boy who does not know his place, and I will be with him until our time runs out."
Bo is perhaps the most captivating character of the novel. He's a perfect, terrifying blend of childlike cruelness and utter loneliness but so absolutely lost that I just wanted to cry reading about his tragic past, how he feels for Wen and how absolutely fervently he dreams for the future. Seriously, I can't help but want to give him the biggest hug ever.
I do wish however, that there could've been a stronger female-female relationship and a more positive portrayal of women.  I feel as if Wen gave up on her relationship with Jima far too easily, especially when she realized that Jima had been forced into prostitution after losing her job at the factory. Society and Wen's earlier perceptions that prostitution is shameful was a bit irritating to read – especially when it was implied several times over in the novel. Similarly, I thought that Wen could've put more effort into her relationship with Vie.  She says that they had been friends since childhood, going to the First Holiday together every year but she never truly tries to explain her actions to Vie or to convince her that the Noor are not what they have been propagandised to be.
The writing is beautiful – as expected when the story is set in a slaughterhouse, there is a lot of gore but Fine has this way of describing it that makes the carnage more chilling than grisly or bloody which vastly heightens the atmosphere. Normally, I'm not a fan of horror or thriller  by any means but in this case,  I couldn't get enough of the eeriness it lent to the words. I definitely recommend this book to anyone and everyone looking for their next spectacular read!