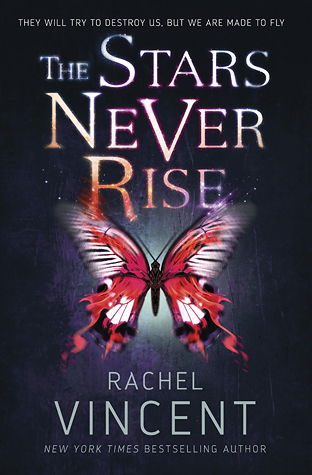 The Stars Never Rise
by Rachel Vincent
★★★★☆
I could read this book for breakfast, lunch, dinner…and then reread it for dessert. It was action-packed (seriously, this one is a real page-turner!), had a kick-ass heroine and a cute romance that didn't detract from the wicked world-building. I mean, what more could you ask for out of a book??
Not much, would be the correct answer! Nina Kane, sixteen-year-old heroine, lends a genuine, honest voice to the novel – I literally got chills down my back a few times while reading. I admire her tenacity in the face of overwhelming odds, both with her mother and at school. She's willing to sacrifice everything she has for her family, even deciding to pledge herself to the Church to give her and her sister the best possible chance for survival.
Having a sister of my own, strong sibling relationships are one of my favourite things to read about. Nina and Mellie have a sweet, genuine relationship that really gave strength to the novel. When Mellie's secret is revealed and when Nina's mother reveals that Nina uses her body to help her family, there is zero judgement between the sisters, just the need to help each other and lean on each other's strength.
I like that Nina's strength doesn't necessarily come through in her physicality, (becoming an exorcist definitely didn't come easy to her – she didn't magically become a super-star exorcist overnight but had to struggle, sweat and bleed to exorcise the demons she encountered) but through her tenacity and grit.
..they could come at me with scalpels and sutures and sever my bloodline along with my fallopian tubes, but they could never cut out my thoughts, and they could only kill my dreams if I let them. I still had worth. I still had hope. My future was whatever I wanted to make of it."
Having been oppressed by the Church her whole life, sterilized at fifteen for having allergies, flat feet and mild myopia, it's commendable that she hasn't broken down and is still fighting for the people she loves and the values she believes in. It was really refreshing and engaging to read about a heroine that was so steadfast and resolute throughout the entirety of the novel.
The romance gave off a few instalove vibes and took me by surprise. It's mentioned a few times from the members of the Anathema that Finn really likes Nina but why?? Sure, he admires her strength, but I wish there was just a little more relationship development. Nevertheless, the quick romance was definitely offset by how much I loved Nina and Finn. They were just so darn adorable that the romance actually turned out to be a huge plus for me – especially after the fascinating plot twist with Finn.
I'm a sucker for green eyes and cutesy smiles just as much as the next girl but even I will admit that the "green eye" description felt like beating a dead horse for the first third of the novel, although the reasoning for this did become clear eventually! Finn is absolutely charming and undeniably, an easy character to love. Although his situation sucks – it must be so emotionally tolling and difficult to live how he does and to finally meet a girl he likes but be unable to offer her the things a normal person could! I just feel so horrible for him – but he never comes across as bitter but is instead hopeful and spirited. A totally swoon-worthy character.
Although it was most definitely a page-turner, I can't help but wish that even more stuff had happened. I want more Nina, more Finn, more time to get to know the rest of the Anathema (especially Reese and Maddox – whom I found a little harder to connect to, the main reason probably being that they had to share their screen time with someone else) and more relationship and character development! I'm beyond excited to read the next novel in the series and will be anxiously awaiting its arrival!